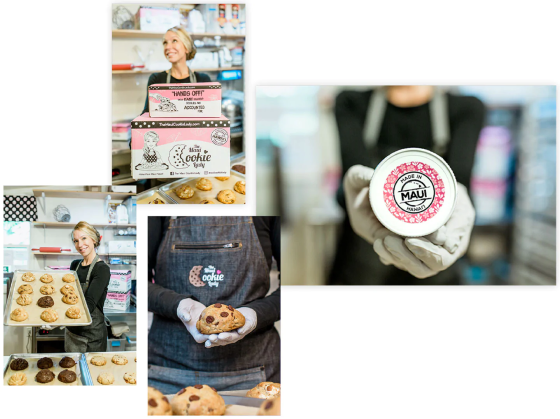 About Us
The Maui Cookie Lady (MCL) is a distinctive brand of premium, freshly-baked gourmet cookies that feature an array of locally sourced ingredients.

Our little island boutique bakery continues to gain loyal customers due to our creative,decadent flavor combinations and wholesome inclusions. We are proud to use only the highest-quality ingredients and locally sourced, when available, in our celebrated confections.
Our cookies have been featured in
Our Cookies have been Featured in

Our cookies made Top 10 for "Taste of Home Magazine" for 2020 and 2021.

Proudly Sourced Hawaii Products Used in our Cookies When Available

Maui Gold Pineapple, Waihe'e Valley Macadamia Nuts, Hawaiian Sea Salt, Maui Brewing Company Island Brewed Coconut Hiwa Porter, Rum by Kōloa Rum Company, Lilikoi (Passion Fruit) from Haiku and Caramel for Haleakalā Creamery.

Shipped All Around the World

Originally, starting as a fundraiser at a local farmers market on the island of Maui, MCL cookies are shipped all around the world. Popular flavors include Kona Coffee Espresso using Peaberry Beans, Pineapple Lychee Passion with Hibiscus Flowers, Mango, White Chocolate Macadamia Nut, Grown-Up Samoas (made with Maui Brewing Co.'s Coconut Hiwa Porter Craft Beer), and our "Original" Butter Rum Triple Chunker.

Inspiration

A long-time cookie enthusiast, founder, Mitzi Toro began baking delicious cookies in 2012 as a fundraiser to thank the nurses at Maui Memorial Hospital for taking such phenomenal care of her terminally-ill father. After raising funds for the dedicated nurses for a few months at a local farmers market, Mitzi was encouraged to transform her cookie fundraiser into a business by her regular customers who came to immensely love her delicious delectable. Thus, the Maui Cookie Lady cookie company was born. The companies' motto is to make the world a smaller place one cookie at a time.
Company Accolades/Achievements